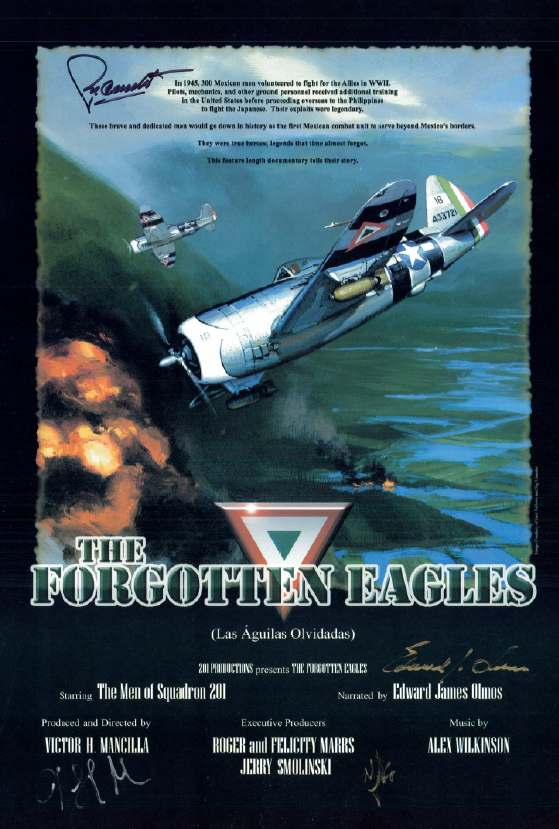 The Forgotten Eagles is the story of the "Aztec Eagle" pilots of Fighter Squadron 201 – the only Mexican military unit ever to serve in combat outside of that country and to fight with the United States against a common enemy. Created by special accord between Presidents Franklin Roosevelt and Manuel Avila Camacho, this elite unit of aviators and support personnel helped American forces liberate the Philippines during World War II. The pilots' exploits were highly publicized; they became national heroes in their country and symbols of bi-national wartime solidarity. Their unit was decorated by the governments of all three countries for valor in the cause of freedom but their service was largely forgotten after the war.
The Forgotten Eagles was filmed over a three-year period in Mexico, the Philippines and the United States. It blends rare archival color and black-and white footage of the unit in training and in the combat zone with interviews with squadron personnel, their families and American comrades-in-arms. Among its more memorable segments is one showing Captain Reynaldo Perez Gallardo, who flew with the unit during the war, walking through remnants of the airbase at Porac in the Philippines after an absence of 60 years.
The film's producer/director Victor Mancilla is a native of Mexico City and owner of Eravision Productions, Los Angeles, California. Mancilla has produced or directed a number of documentaries and worked with stars including Anthony Hopkins, Kelly Hu and Edward James Olmos, who introduces and narrates part of the film. "This is a film about Mexico partnering with the United States to help liberate a former sister colony of Mexico from a brutal Japanese occupation…. An important story told by the Mexicans, Filipinos and Americans who lived it," Olmos said.
Research and logistics for the film were done by Sig Unander, a former journalist who spent six years locating and interviewing the Aztec Eagles in Mexico and is writing a book about their famous unit. "Victor is a master filmmaker with a passion for this story. I think everyone can enjoy and learn from it", said Unander. The film premiered at the National Air & Space Museum in Washington, D.C.
Genre:  Documentary Film
Specifications:   Running time: 56 minutes. English.
Project status:   English version complete; Spanish version in production.